Obama, Biden find value in books
(Read article summary)
Books play a (very different) role in the asset disclosures of both Obama and Biden.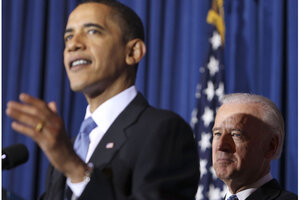 Larry Downing/Reuters
The financial disclosures yesterday of the families of President Obama and Vice President Biden indicate a significant role for books in the assets of both. But when it comes to book royalties, the president seems to have a distinct advantage over the vice president.
President Obama reported that in 2009 royalties from his two books – "Dreams from My Father" and "The Audacity of Hope" – totaled somewhere between $2 million and $10 million.
Obama also disclosed that he and his publisher, Crown Publishing, have come to a new arrangement with respect to future books by Obama. "Dreams from My Father" was originally published in 1995, after Obama was elected the first African-American president of the Harvard Law Review. In 2004, when he was elected senator from Illinois, the book was republished and Obama and Crown agreed at that time that he would write an additional two nonfiction books and a children's book.
"The Audacity of Hope," published in 2006, counts as one of the two promised nonfiction titles.
---