5 gripping real-life adventure stories
(Read article summary)
Five paperbacks that will make excellent summer reading.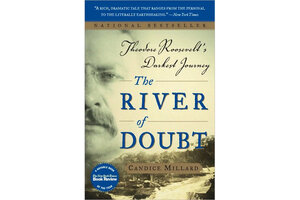 If you have a yen for real-life adventure stories, here are five paperbacks you want to be sure to slip into your vacation bag this summer.
1. The River of Doubt, by Candice Millard (Anchor, 432 pp., $15). In 1912, after a humiliating defeat in his third presidential bid, Theodore Roosevelt tried to distract himself with a foolhardy trip down an unmarked Brazilian river. This stranger-than-fiction tale, heightened by "the uncanny silence of the rain forest," is the kind of story readers may "feel compelled to devour in a single sitting." (CSM review 10/11/05)
2. Down the Nile, by Rosemary Mahoney (Back Bay Books, 304 pp., $14.99). Author and adventurer Rosemary Mahoney's plan to "buy a small Egyptian rowboat and row myself" – a lone female – "along the 120-mile stretch of river between the cities of Aswan and Qena" may sound ill-advised, but Mahoney's "quicksilver intelligence ... sharp eyes ... and slightly astringent voice" make her an excellent narrator and a worthy travel companion. (CSM review 8/28/07)
3. Manhunt, by James L. Swanson (Harper Perennial, 496 pp., $15.95). James L. Swanson's tale of the 12-day search for Abraham Lincoln's assassin, John Wilkes Booth, through the swamps of Maryland and Virginia "rivets because of its pacing – and because its shifting scenes and characters are juggled with sure hands." (CSM review 2/17/06)
---
Follow Stories Like This
Get the Monitor stories you care about delivered to your inbox.