10 great books for Father's Day
(Read article summary)
If you're looking for that perfect gift for a father, try one of these terrific reads about fathers of all different sorts.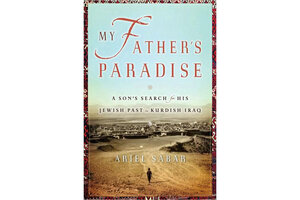 What do you buy for the father who already has everything? How about a book that manages to be a great read, even as it paints a compelling portrait of fatherhood?
Here are 10 recent books that meet both criteria:
1. My Father's Paradise, by Ariel Sabar (Algonquin Books, 345 pp., $14.95). This moving memoir tells the story of journalist Ariel Sabar's travels with his father to Iraq in an effort to understand his family's roots in an ancient community of Iraqi Jews. (CSM review 9/16/08)
2. The Father of All Things, by Tom Bissell (Vintage, 432 pp., $14.95) In a book that combines memoir, travelogue, and history, Tom Bissell tells of the 2005 trip to Vietnam he took with his father, a former US Marine and Vietnam vet. (CSM review 3/13/07)
3. The River of Doubt, by Candice Millard (Anchor, 432 pp., $15). In 1912, after a humiliating defeat in his third presidential bid, Theodore Roosevelt tried to distract himself and his son Kermit with a foolhardy trip down an unmarked Brazilian river. This stranger-than-fiction tale is a gripping read but also a touching father and son story. (CSM review 10/11/05)
---
Follow Stories Like This
Get the Monitor stories you care about delivered to your inbox.