How to choose what you read
(Read article summary)
If you can read only 2,400 books in a life time – which should they be?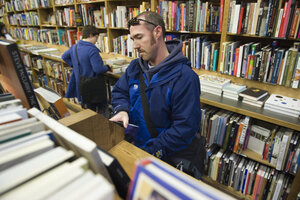 Mary Knox Merrill/CSM/file
So many books, so little time. John Warner, a contributor to The Morning News, did some thinking earlier this year about how to improve our odds of finding winning reads, given what a small number of books we can finish in a lifetime.
"I consider myself a pretty avid reader, and I finished 47 books last year, not even one a week. Let's imagine a nice 60-year span of productive reading in my adulthood, where I average 40 books a year. That's only 2,400 books in a lifetime…" he wrote.
"When left to my own devices I almost always choose fiction written about contemporary life. These are the stories I'm drawn to as a reader. They're also the stories I'm drawn to as a writer… The end result, however, can sometimes make for a pretty myopic reading list. It's like finding a thing you really like at a restaurant and ordering it every time because you're sure you're going to like it, but at the same time, you could be missing out on something even better," he wrote.
His spin on a solution, as befits an editor with a McSweeney's pedigree, was "The Biblioracle," a service where Warner asked readers to list the last five books they had read, whereupon he would provide a recommendation for a good next read.
It was enough of a hit, topping 1,000 comments between reader requests and Warner's answers, that he had to cut it off early, promising to return later in the summer. And commenters seemed happy with the responses they got, some saying they loved the sound of the recommendation, some saying they had already read the book in question, and it had been a good pick.
---