The John Wooden reading list
(Read article summary)
As tributes to legendary coach John Wooden continue to flow, here are the books that remind us why he matters.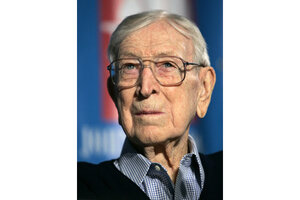 Chris Carlson
They call him "the winningest coach." John Wooden, coach of UCLA's basketball team for 27 years, saw his team to 10 NCAA national championships in a 12-year period, a feat unmatched by any other college basketball coach.
As the 99-year-old Wooden suffered a health crisis this week, the world watched and remembered the remarkable legacy he created.
Did Wooden ever tire of the world of coaching? It would seem not. In a review for the Monitor of John Feinstein's book "Last Dance: Behind the Scenes at the Final Four," a reader describes his own favorite scene in the book:
"Immortal UCLA coach John Wooden, now well into his 90s, recounts how he recently visited a Duke practice. His successor as the sport's top coach, the aforementioned Coach K. [Duke University coach Mike Krzyzewski], invites him to sit in, and Wooden comes away impressed.
---