Doesn't Harry Potter really belong in London?
(Read article summary)
With the "Harry Potter" theme park set to open in Orlando, Fla., London Mayor Boris Johnson is urging the boy wizard to come home.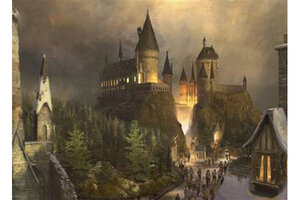 Universal Orlando/PR Newswire
We're almost there. On June 18, the Wizarding World of Harry Potter – the Warner Bros.-Universal Studios "Harry Potter" theme park in Orlando, Fla. – will officially open its gates to the world. All around the globe, there are Potter fans counting the hours.
But in London, there are some who don't share the eager glee. "I have nothing against Orlando," London Mayor Boris Johnson wrote in his weekly Daily Telegraph column. "In general I adore America. But I deeply and bitterly resent that Orlando is about to become the official place of pilgrimage for every Harry Potter fan on earth."
Johnson goes on to explain that he's not worried that the boy wizard and British export will somehow by misrepresented in the Florida park. On the contrary. "I know that ... everyone at Warner Bros and Universal will do a magnificent job of making it look and feel authentic and faithful to the stories," he continues. "But I know somewhere that's even better than Orlando at looking like London – and that is London. I want to know why this Kingdom of Potter is not being built in the UK."
---