10 great books about cycling
(Read article summary)
Whether you ride a bike or not, the summer is the perfect time to pick up a book about cycling.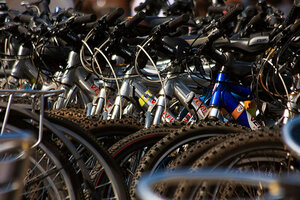 Garry Knight/Flickr.com
You don't have to be anything more than an unremarkable (6 miles, round trip) bike commuter like me to be fascinated by the stories of those who find fabulous adventures atop two-wheelers. And what better time than summer to settle down with a book about a bicycle? For those looking for good titles, here are 10 particularly good reads:
1. "Full Tilt: Ireland to India by Bicycle," by Dervla Murphy. It was 1963 when British travel writer Dervla Murphy decided to bike solo through Europe and Central Asia, ending up in Delhi. Her humor, her adventures, her encounters with locals, and her descriptions of the cities and landscapes through which she passes (much of the book focuses on the high mountain country of Afghanistan and Pakistan) make this book an adventure that endures.
2. "The Rider," by Tim Krabbé. This classic in the field of biking literature can be described as a love letter to bike racing. It puts the reader inside the head of Dutch novelist and cyclist Tim Krabbé as he rides a 137-kilometer race through some of the toughest mountain terrain of the Tour de France. As he rides he meditates on his own attachment to the sport, as well as that of other cyclists.
---