After some controversy, the Harry Potter theme park has its grand opening
(Read article summary)
No more questions about the date – the Wizarding World of Harry Potter is now officially open.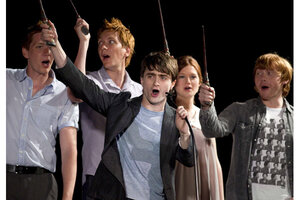 Scott Audette/Reuters
Did Universal Orlando's "World of Harry Potter" theme park open on May 28 – or June 18? That has been the question.
Fans of Harry Potter – the boy wizard created by British author J.K. Rowling – were thrilled when they heard that the fictional world created by the beloved novels would be duplicated in this Florida theme park. The $200-million facility set on a 20-acre expanse includes a replica of the town of Hogsmeade – complete with train station, fabled locomotive, and Hogwarts Castle – stores sellling wands and wand boxes, and restaurants serving "traditional British fare" and Butterbeer.
But for some, delight turned to dismay when there was confusion over the park's opening date. Universal had begun selling vacation packages in February with Wizarding World benefits starting May 28. But the park's official opening was set for June 18. Would those early visitors get full access to all the amenities of the Potter park?
---