Gay-themed novels for young readers enter the mainstream
(Read article summary)
Gay characters are finding acceptance in literature for young adults.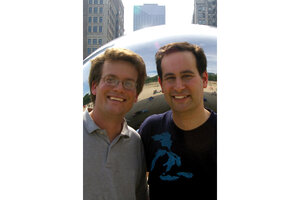 Julie Strauss-Gabel
Not too long ago teen novels featuring gay characters were an uncomfortable topic for many school librarians and booksellers – to say the least. But today – following in the wake of television and movie acceptance of such characters – it's a very different story. "Kids have for the most part become 'Will and Grace'-ified," one high school librarian told The Associated Press.
This week Borders Time Warner Center hosted a gay young adult reading event in celebration of Gay Pride Weekend in New York. On the panel were seven young adult authors, most of whom had written gay-themed novels. Of the group, one of the most successful has been David Levithan, co-author with John Green of "Will Grayson, Will Grayson."
"Will Grayson, Will Grayson," which debuted on The New York Times children's best-seller list this spring and has become a trending topic on Twitter, is the story of two teens, one gay and one straight, both named Will Grayson, who tell their stories in alternating chapters.
---