Robert Byrd: a reading list
(Read article summary)
Sen. Robert Byrd will be remembered for his words – both as an author and an orator.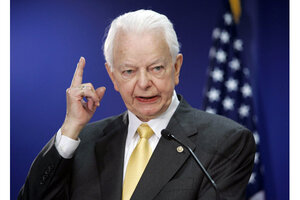 Kevin Lamarque
This week the press will be full of obituaries chronicling the life of Sen. Robert Byrd, the longest serving member of the US Senate, who died today, June 28, at the age of 92. Among the many things to be noted about this longtime public servant, who earned his first college degree in 1963 (he took night classes at American University to earn a law degree, becoming the first member of Congress to do so as an incumbent), was his love of words.
"Byrd did not use the English language the way that other politicians do," wrote Steve Kettmann, Bryd's coauthor of the 2008 book "Letters to a President." "He loved books and for years his idea of the ideal break from his duties in the Senate was to spend his weeks off digging through books. He had a rococo speaking style that some mocked, but it was all his, though it very much drew on the tradition of southern oratory, and there was nothing feigned about his erudition."
---