What are critics saying about "Eclipse"?
(Read article summary)
For some, this is the best of the "Twilight" movies.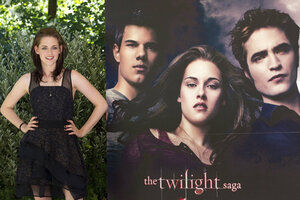 Max Rossi/Reuters
If you haven't yet seen a movie in the "Twilight" series, should you begin with newest release "Eclipse"? Maybe – if you believe what some critics are saying about the third film version of Stephenie Meyer's wildly popular teen vampire saga.
"It took three films, but 'The Twilight Saga' finally nails just the right tone in 'Eclipse,' " says The Hollywood Reporter. "Where the first film leaned heavily on camp and the second faltered through caution and slickness, 'Eclipse' moves confidently into the heart of the matter – a love triangle that causes a young woman to realize choices lead to consequences that cannot be reversed."
"[T]the kids are growing up," says the Los Angeles Times, referring less to the characters from the books – Bella, Edward, and Jacob – than to the actors who play them: "Kristen Stewart, Robert Pattinson and Taylor Lautner who finally, finally have figured out how to breathe life into the characters first created by publishing phenom Stephenie Meyer."
---