Does Borders have a shot at 17 percent of the e-book market?
(Read article summary)
Borders, now launching an e-bookstore, is late to the race.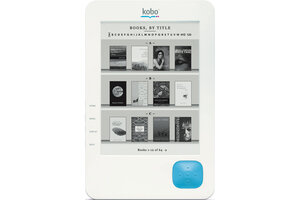 Borders
Better late than never? Or will most of the worms be going to one of the earlier birds? Borders is just now launching its e-bookstore, a 1.5 million-plus title collection (including numerous free titles) powered by Canadian e-book retailer Kobo Inc.
"The race to emerge as a retail leader within the digital category is just starting," insists Borders CEO Mike Edwards. The company is also selling two models of e-reader, now available both online and in Borders stores. Even given the current price war going on in the e-reader market, Borders' Kobo (selling for $149.99) and Libre ($119.99) e-readers still have the advantage of prices at the very bottom of the range.
The company also hopes that the fact that the new Borders Kobo e-book app can be used across multiple platforms rather than on just one device will work to its advantage.The Kobo app is already available for iPhone, BlackBerry, and Android.
---