On the 50th anniversary of "To Kill a Mockingbird": a glimpse of Harper Lee
(Read article summary)
Harper Lee biographer Charles J. Shields talks about Harper Lee and the 50th anniversary of her masterpiece "To Kill a Mockingbird."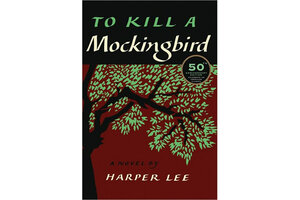 Fifty years ago this month, an unknown young writer from Alabama published her first novel. Today, Harper Lee's Pulitzer Prize-winning masterpiece, "To Kill a Mockingbird," still sells almost a million copies a year and remains one of the most beloved books in all of America's literary canon. Charles J. Shields, author of "Mockingbird: A Portrait of Harper Lee," the only biography of the writer, spoke with Monitor books editor Marjorie Kehe about Lee, her life, and her achievement. Here are some excerpts:
"To Kill a Mockingbird" seems to be closely drawn from actual events in Harper Lee's life. But is it an oversimplification to say that Atticus was her father?
No, it's an accurate statement. Her father was a great man in a small town. He was much respected, a partner in one of the largest law firms in the county, a director of the bank, a deacon at the local church, and twice elected to the state legislature, just like Atticus. Although he was more reserved than Atticus. No one could ever recall not seeing him in a three-piece suit, even when he golfed. And I have to say that he was a segregationist. People like him, whose parents had fought in the Civil War, as his had, genuinely believed that people were happier with "their own kind."
But there were transformative events in his life.
Oh, yes. By the time he was an elderly man, when "To Kill a Mockingbird" came out, he was involved in an effort to redistrict the state to see that blacks were better represented in Alabama.
---