Profiles in Courage: Chats with independent bookstore owners, Part I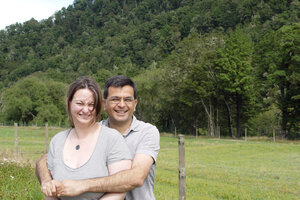 Christin Evans
[What do typesetters, shepherds, and independent bookstore owners have in common? That's not the setup for a bad joke – just a recognition that many traditional professions are under pressure these days, not the least of them the business of owning and operating your own bookstore. Facing the pressures of heavy competition from chains with deep pockets, a hesitant economy, and – most recently – assault from the likes of Kindle and the iPad, it is perhaps not surprising that membership in the American Booksellers Association has dropped almost 50 percent over the past 10 years (from about 2,700 members in 2000 to about 1,400 today). Over the course of the summer, the Monitor will be checking in with some of America's most beloved neighborhood booksellers to see how they are surviving or – occasionally – even thriving, in difficult times.]
Like hard-core journalists who run into a war zone just when everyone else is struggling to get out, husband-and-wife team Christin Evans and Praveen Madan made an unusual decision three years ago. They left high-paying consulting jobs in the corporate world – and bought an independent bookstore. Now happily ensconced as owners of Booksmith San Francisco, Evans took a few moments to answer questions from Monitor book editor Marjorie Kehe. Here are excerpts of their conversation:
Q. Why, in this day and age, would anyone leave the corporate world to buy an independent bookstore?
---
Follow Stories Like This
Get the Monitor stories you care about delivered to your inbox.