One Hundred Years Later, Twain finally speaks his piece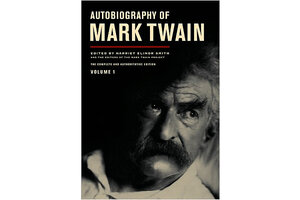 Mark Twain never struck me as someone afraid to say what was on his mind. And yet, Samuel Clemens, the cranky, opinionated author of "The Adventures of Huckleberry Finn," decided that his real views about a host of matters, from war to Wall Street, were too incendiary to be published until a century after his death.
The 100 years are finally up, and this November the University of California Press will publish the first of three volumes of the "Autobiography of Mark Twain." The finished project runs a whopping 500,000 words, and completists (and college students working on their theses) will be able to see all original 750,000 online at the Mark Twain Project Online.
For those who can't wait four months more for a taste, yesterday, Britain's literary journal, Granta, printed the first excerpt, "The Farm," which includes Twain's reminiscences of visiting his uncle's farm in Missouri, in its issue titled "Going Back." While you'll need to purchase a copy to read the entire article, Granta does include an excerpt in Twain's own handwriting.
Britain's Guardian newspaper also offers excerpts of the childhood memories that Alison Flood writes informed Twain's most well-loved novels, "The Adventures of Tom Sawyer" and "Huckleberry Finn."
---