How Greg Mortenson outsmarted his publishers
(Read article summary)
"Three Cups of Tea" author Greg Mortenson explains how the wording he wanted for his book finally prevailed.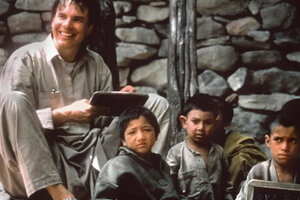 Central Asia Institute/Courtesy of Greg Mortenson
If you've read Greg Mortenson's "Three Cups of Tea," then you understand that Mortenson knows a thing or two about how to handle himself in a tribal jirga. So it should come as no particular surprise to watch this video clip in which he explains how he finally prevailed in a dispute with his publishers over the words to be used on the jacket of his runaway bestseller.
At the moment of the negotiations, however, "Three Cups of Tea" wasn't yet a bestseller, and, Mortenson tells a crowd at the Commonwealth Club in San Francisco, he was just "this little guy from Montana." His publishers were quick to explain to him that only 1 nonfiction book in 8 makes a profit. In other words, Mortenson had no particular clout.
But he did have a strong feeling about the yet-to-be-published true story about his quest to build schools throughout Afghanistan. He wanted its subtitle to read "One Man's Mission to Promote Peace ... One School at a Time."
What his publishers preferred, however, was, "One Man's Mission to Fight Terrorism and Build Nations ... One School at a Time."
To Mortenson, there was a significant difference between the two. "If we fight terrorism," he says, "that's based in hate. But if we can promote peace, that's based in hope."
---