Todd Boss finds a new way to put poetry in motion
(Read article summary)
Motionpoems – MTV for poetry enthusiasts?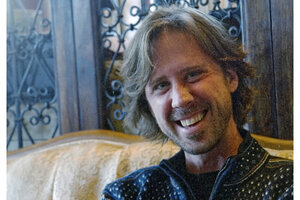 Sarah Beth Glicksteen/file
When the Monitor introduced readers to the poetry of Todd Boss two years ago, Boss was at the start of what he calls a "perfect storm" that swept him and his writing into literary prominence. His first book of poems, "Yellowrocket," had just been released by W.W. Norton – which normally doesn't publish debut collections – and it would soon spend several weeks on the poetry bestseller list. The winds of good fortune continued through this spring, when Norton published "Yellowrocket" in paperback, another anomaly in the publishing world.
Boss demurely claims that "luck" had a lot to do with his success, but readers and critics of his work know better. We know that talent, a distinctive voice, and stunning poems that burn themselves into the reader's memory really fueled his meteoric rise. We also know that another perfect storm is brewing.
You can see the winds kicking up if you go to www.motionpoems.com and watch the video "The God of Our Farm Had Blades," which features a poem from Boss's second book, "Overtures on an Overturned Piano," due out in fall 2011. The video, or motionpoem, shows how three powerful forces are converging: Boss's remarkable writing, his vision for poetry in mainstream culture, and outstanding design and animation, which far exceed the norm for poetry videos.
See for yourself, but be warned: "The God of Our Farm Had Blades" is so striking and cinematic – a short film, really – that you can't just watch it once. Most people replay this gem, created by Tom Jacobsen of Pixel Farm in Minneapolis, several times, because each viewing pulls them deeper into the poem and the rugged world where Boss grew up.
---