What to read about the Khmer Rouge
(Read article summary)
Chief Khmer Rouge executioner "Duch" faces a jail sentence. Which books best dissect the horror of the Khmer Rouge regime?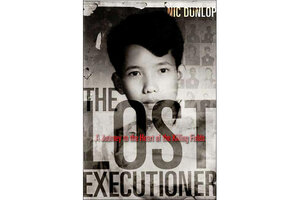 The Khmer Rouge is blamed for the deaths of 2 million people during its 1975-79 rule of Cambodia. Today, the regime's chief executioner, Kaing Guek Eav – better known as "Duch" – was found guilty of war crimes and crimes against humanity by a UN-backed war crimes tribunal.
Even as debate swirls as to whether the sentence was sufficiently harsh (the 67-year-old Duch was sentenced to 19 years in prison, too short a term for the likes of many Cambodians who point to the horrors of the S-21 prison that Duch oversaw and where as many as 17,000 prisoners were tortured and killed), public interest in this horrific chapter of human history is on the rise.
What are the best books on the topic? There are many, including a number of harrowing accounts by journalists and memoirs by survivors. Here are a handful of strong titles that make a good place to start:
1. "The Lost Executioner," by Nic Dunlop. This 2006 book is one of the reasons that Duch is now standing trial. In the 1990s, Irish photographer-journalist Nic Dunlop, who was working in Cambodia, set off on a quest to both understand the Cambodian genocide and to find Duch. Not only does Dunlop succeed in tracking down his prey, but he also puts together a powerful account of Cambodia's history, both ancient and more recent, to help readers better understand the horrific events of the 1970s.
---