In San Diego, a reader rebellion
(Read article summary)
San Diego's book lovers are up in arms about the disappearance of the San Diego Union-Tribune's book editor – but will it make a difference?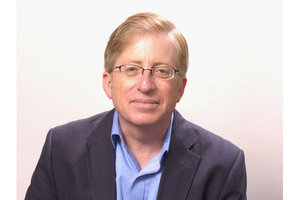 Newspaper book sections have been shrinking and disappearing for years, but rarely has the reaction been as vociferous as in the town that likes to call itself America's Finest City.
When the San Diego Union-Tribune – San Diego's daily newspaper – sacked Bob Pincus, a longtime journalist who served as arts critic and book editor, locals geared up a campaign to save his job and restore arts and book coverage. Protesters harangued the newspaper's editor, attracted hundreds of supporters on the Internet and organized a well-attended forum where they confronted the paper's editor.
The San Diego Union-Tribune has largely been unmoved by the protests from book readers. The paper's weekly book section occupies just a page (along with ads) in the Sunday edition; it used to be a stand-alone section.
The single page is still a victory of sorts, says local literary agent Sandra Dijkstra, who feared the book section would vanish entirely.
"The cultural level of the town keeps on diminishing as these kinds of cuts go forward," says Dijkstra. She believes local reviewers – and a local book section editor – contribute to a conversation about books.
Members of the local arts and book communities may feel especially stung by the newspaper cutbacks because of San Diego's reputation, or lack of one. While it's the nation's eighth largest city, San Diego has long toiled in the shadow of Los Angeles and San Francisco. It's much better known for its beaches and zoo than its authors and artists.
From the newspaper's perspective, the challenge is figuring out how to make a book section profitable. Book publishers and chainstores generally prefer to advertise in national publications, if they advertise at all. Independent bookshops might buy ads, but they're struggling to survive.
---