Two new Kindles: why e-readers just got easier to buy
(Read article summary)
Amazon announces two new Kindle models, both offering lower prices and new features.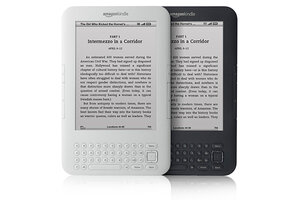 Amazon.com/Reuters
If you were on the fence about buying an e-reader, the latest news from Amazon may be enough to knock you off. Today, the company announced two new additions to the Kindle family: the "new" Kindle and Kindle Wi-Fi. Both come with dramatic price reductions and advanced features not found in the older models.
According to the Amazon Kindle Blog, "the all-new Kindle has a new electronic-ink screen with 50 percent better contrast than any other e-reader, a new sleek design with a 21 percent smaller body while still keeping the same 6-inch-size reading area, and a 15 percent lighter weight at just 8.7 ounces. The new Kindle also offers 20 percent faster page turns, up to one month of battery life, double the storage to 3,500 books, built-in Wi-Fi, a graphite color option and more."
And for what price, you ask? Only $189, and that includes free 3G coverage without monthly bills or contracts. That's slightly less than the Barnes & Noble Nook, which sells for $199 and includes a wi-fi connection.
---