The Great Typo Hunt
(Read article summary)
An interview with the men who spent two and a half months on a cross-country mission to eliminate typos.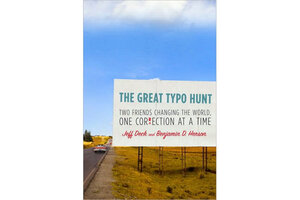 They're irritating, pop up everywhere, and we've all made them. They are typos.

And unless you were unfortunate enough to spell "SHCOOL" in giant white letters, as did a road crew in North Carolina last week, or neglected to doublecheck your resume before you hit send, probably the mistake didn't wreck your day.

But two authors, Jeff Deck and Benjamin Herson, set off on a cross-country mission to wipe out as many misspellings and unfortunately positioned commas as they could in 2-1/2 months. Armed with a handy Correction Kit – including an array of Sharpies, chalk, and the "elixir of correction" (Wite-Out) – they spotted 437 typos and were able to fix 236 of them. (The corrections kit was not stocked with neon tubing, for one thing, and in other cases, people were adamant about letting the mistakes stand.)

The most frequent typos they ran into were misplaced apostrophes dangling erratically all over the American landscape, but there was no region of the country more error-prone than another. They found typos at museums – the Cartoon Art Museum in San Franscisco had so many that the artists' bios at times were reduced to gibberish – and churches ("Frances of Assissi" is apparently a little-known Spanish variant of the saint's name, or so a tour guide would have them believe). They even found typos at the Grand Canyon.

While their grammarian mission might seem like the most mild-mannered and quixotic of quests, Deck and Herson were argued with, lied to, asked to leave stores, and prosecuted by the US Park Service.

---