Questions for Eliza Griswold, author of "The Tenth Parallel"
(Read article summary)
Eliza Griswold traveled to some of the world's most dangerous places to explore the relationship between Christianity and Islam.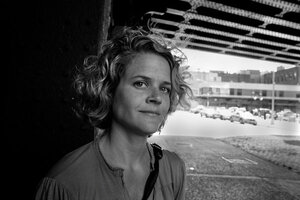 Antonin Kratochvil
In journalist Eliza Griswold's own words, "I went to the places where [Islam and Christianity] meet. I went to the fault line – the most jagged places – intentionally." Griswold chose the 10th parallel, the line of latitude 700 miles north of the equator, where more than half of the world's 1.3 billion Muslims live, as do 60 percent of the world's 2 billion Christians, as a point of observation from which to report on relations between Christianity and Islam in Africa and Asia. In the course of the reporting collected in "The Tenth Parallel," Griswold spent seven years traveling in Nigeria, the Sudan, Somalia, Indonesia, Malaysia, and the Philippines.This week I had a chance to speak with Griswold about her reporting.
Q: So much of what you write about in your book is the story of conflict between Christianity and Islam. And yet, as you note, in many of the places you visited there was peaceful coexistence between the two religions for centuries. Why now are we seeing this conflict?
A: For a couple of interlinked reasons that have to do largely with population growth. [The 10th parallel] is the knife edge of where the world's populations are growing the fastest and religion is also growing the fastest. We're seeing an increase both within Islam and Christianity [and the forms of these religions that are growing the fastest] ... tend to be the most radical and the most effervescent. And when those forms rub up against each other, that tends to cause conflict.
---