"Freedom" by Jonathan Franzen: a review roundup
(Read article summary)
"Freedom" has got everybody talking about Jonathan Franzen.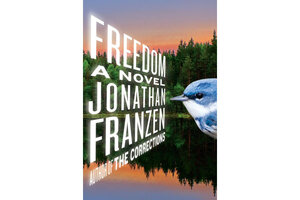 "Freedom" by Jonathan Franzen may turn out to be one of those books that you simply have to read. You have to read it because you'll need to know which camp you're going to join. Are you going to be among those who love to hate Jonathan Franzen or those who hate to love him?
Franzen – whom many have viewed (perhaps unfairly) as a famously prickly writer ever since his scuffle with Oprah – has already inspired a new vocabulary word: "Franzenfreude," which refers to the pain some readers feel in hearing Franzen too highly praised. And praised he has been (appearing recently on the cover of Time magazine with the tag line "Great American Novelist") – even by those sometimes reluctant to do so.
Washington Post critic Ron Charles – who calls the book "brilliant, maddening" – notes that "[t]he point to remember is that 'Freedom' is big enough and thoughtful enough to engage and irritate an enormous number of readers."
So far, however, the critics seem to have been more engaged than irritated. Here's a sampling of what's been written about "Freedom" so far:
---