"Boardwalk Empire": from near-bust to boffo
(Read article summary)
How "Boardwalk Empire" – a book from a first-time author and a small publisher – became an HBO series.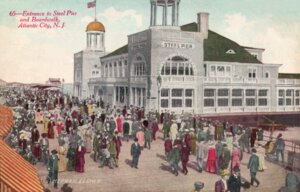 When a first-time author's book about the tangled history of Atlantic City came out in 2002, it was hardly a (mob) hit. "Boardwalk Empire" sold a few thousand copies locally, and its publisher didn't bother to distribute it anywhere else. Then Hollywood got wind of it.
Now, the author – an attorney-turned-judge – is the toast of the small-time publishing world: His book is the basis of the new HBO series with the same title that debuts this Sunday.
How did that happen? The story's a bit blurry, just like Atlantic City's liquor-addled past. But the editor who bought the book says it has a lot to do with the benefits of working with a small publisher.
"It's great to publish your book with a big publisher, but it's difficult to get your boot in the door," says John B. Bryans of Plexus Publishing in Medford. N.J. In contrast, small- and medium-sized publishers "will take a risk on an unknown author," he says.
And that's just what author Nelson Johnson was when he approached Bryans about publishing his book.
As an attorney for a local planning board, Johnson had been involved in the approval of new casinos when they began appearing during the city's rebirth a few decades ago. "That's when he really got hooked on this story," Bryans says, "during that period when they were looking closely at what the casinos were trying to do. He started reading up on the history and was captivated."
The manuscript of "Boardwalk Empire: The Birth, High Times, and Corruption of Atlantic City" landed on the editor's desk in 2001. "I don't know anything about Atlantic City. I'm a Connecticut Yankee," Bryans says. Even so, "It was a fascinating read with the corruption and the sheer chutzpah of those people down there."
---