Where Iran and America meet: an interview with Hooman Majd
(Read article summary)
Iranian-American writer Hooman Majd talks about his new book "The Ayatollahs' Democracy."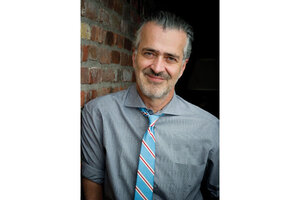 Ken Browar
Hooman Majd is Iranian. Hooman Majd is American. Like the subjects he writes about, Majd is something of a paradox. Born in Tehran to the son of a career diplomat, Majd is also the grandson of a prominent ayatollah.

But Majd grew up mainly outside of Iran and was educated at American schools in San Francisco, New Delhi, Tunis, and London. Although he was raised in a Farsi-speaking home by his Persian parents, Majd was absent from the country of his birth for three decades between 1972 and 2003.

In 1978, during the months before the Islamic Revolution that drove the Shah into exile and ushered in the age of ayatollahs, Majd was visiting Iranian friends in London who suggested they travel to Neauphle-le-Château outside of Paris where Ayatollah Ruhollah Khomeini was living. Owing to a friend's expired passport, they never made it, but Majd recalls the excitement of that time when he, as a college student in Washington D.C., watched the transformation of his homeland.
---