NPR's Michele Norris on her family's hidden history
(Read article summary)
Norris's memoir "The Silence of Grace" explores "the costs of keeping quiet."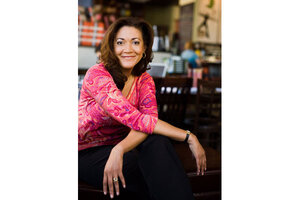 Courtesy of Stephen Voss/NPR
National Public Radio host Michele Norris set out to write a book about the nation's hidden conversation about race. She ended up unraveling the secret painful history of her own African-American family.
Her father, a World War II veteran, returned home to Alabama only to be shot by a white cop. Norris never knew until more than 60 years after the shooting and decades after his death.
She also discovered that her grandmother peddled pancake mix around the Midwest while dressed as Aunt Jemima, then a "mammy" character who made slavery seem positively bucolic.
Norris's family left the past behind even as the age of self-exploration dawned. Norris explores the costs of keeping quiet in her new book "The Grace of Silence."
I talked to Norris (whose first name is pronounced Me-shell) about her "accidental memoir."
Q: How did learning about your father's shooting change your book?
I found myself doing research about 1946 Alabama and couldn't let that story go. Over time, I realized that I needed to follow my interests and my passion and what became my obsession. I had to pivot and write an altogether different book, not about how other people talk about race but about my own family's racial legacy.
Q: Your description of growing up in Minneapolis makes your family sound a bit like an earlier version of the Huxtables of "The Cosby Show." Were they as ideal as they seem?
I now understand that my parents wanted to make sure that we were seen as a model family in the way we carried ourselves and presented our homes to the outside world.
---