How the Commonwealth Games pushed me to learn about India
(Read article summary)
The dust raised by the Commonwealth Games drove this child of Indian immigrants to begin reading about the land of her ancestors.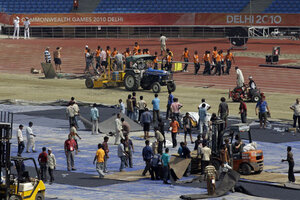 Lee Jin-Man/AP
Dust.
That's what I remember most about New Delhi. It permeated everything. It slicked the cars like spring pollen each morning; it trickled into homes and under rugs, making the undersides of your feet black; and if you spent more than an hour outdoors, it infused your nose and throat with a dry, sandy mist.
Even Delhiites said there was more dust than before, but like most Indians, they complained little and adapted well. My brother-in-law took to keeping an undershirt in his trunk and wiped down his silver Maruti Swift each morning before work. My husband's family covered their rugs with sheets, which they changed and washed each Friday. And daily or twice-daily showers were the norm.
Dust, I learned, was a side effect of India's success. All of Delhi, it seemed, was under construction, thanks in no small part to the upcoming Commonwealth Games, and the dust was its irritating byproduct. In fact, the only time my relatives spoke of the Commonwealth Games, about which most Indians were utterly uninterested, was when the dust reminded them of it.
To me, the dust was as palpable a sign as any that India was booming. New homes were going up in Delhi's sprawling suburbs, the subway was adding new lines, highways grew extensions and overpasses at every juncture, and stadium shells sprouted overnight like mushrooms, for India's Commonwealth Games.
---