Howard Jacobson turns the 2010 Man Booker Prize into a laughing matter
(Read article summary)
Howard Jacobson is awarded the Man Booker Prize for his darkly comic novel "The Finkler Question."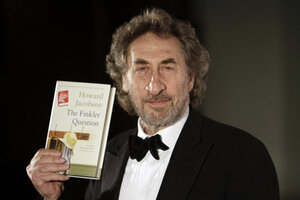 Lefteris Pitarakis/AP
Many different adjectives have been used over the years to describe the books that have won the Man Booker Prize, one of the English-speaking world's most sought-after literary awards. But "funny" has rarely been one of them. Until now.
British novelist Howard Jacobson surprised much of the literary world by becoming the 42nd winner of the £50,000 ($80,000) prize for "The Finkler Question," a darkly comic novel that explores Jewish life in Britain today along with questions about love, loss, and male friendship.
The chair of the Booker judges, Sir Andrew Motion, called "The Finkler Question" "a marvelous book: very funny, of course, but also very clever, very sad, and very subtle."
At 68, Jacobson is a literary veteran. He published his first novel 27 years ago and has written a total of 15 books. He also has a weekly column in the British newspaper The Independent and was long-listed for the Booker twice before, in 2002 and 2006.
Jacobson joked that he began preparing his acceptance speech for this award in 1983.
Perhaps because humor is rarely associated with the very literary Booker prize, Jacobson's victory was a surprise to many. He beat out some very strong contenders, including Australian writer and two-time Booker winner Peter Carey whose novel "Parrot and Olivier in America" had been predicted as the winner by many. British writer Tom McCarthy was favored by British bookies for his novel "C," a meditation on time and technology.
---