Mark Twain's autobiography – after a century's delay – becomes a bestseller
(Read article summary)
Mark Twain wrote his biography a century ago. Finally released, it's stirring plenty of interest.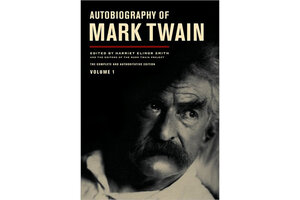 Mark Twain completed his autobiography – which he called "a complete and purposed jumble" – more than a century ago. But he told his publishers that they would not be able to publish it till 100 years after his death – which happens to be this year.
Why the delay? "Mark Twain had a very tender heart," Robert Hirst, curator of the Mark Twain Papers at UC Berkeley, told "CBS Sunday Morning." "He liked to say nasty things – he's really good at it – but he didn't like the idea of being there when the person heard them, and was hurt by them!"
Also, said Hirst, the century-long embargo freed Twain "to say exactly what he [thought], and so in a way he doesn't have anyone looking over his shoulder."
It would appear, however, that waiting 100 years has done nothing to dampen interest in the life of the author of "The Adventures of Huckleberry Finn." On the contrary, the book – which has an official publication date of Nov. 15 – is already high on the bestseller lists of both Amazon and Barnes & Noble.
---