Paul Gaus: Tony Hillerman of the Amish
(Read article summary)
Paul Gaus's Amish murder mysteries offer non-Amish a window into a mysterious but appealing society.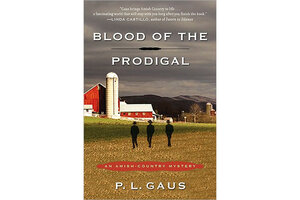 Amish fiction? Don't laugh – it's been a hot growth category for some time now. It seems that non-Amish readers are particularly eager to enjoy fiction that offers glimpses of the sect's simplicity, conviction, and stress on forgiveness.
Amish romance stories are perhaps most common, but Paul Gaus, a retired chemistry professor, has been writing Amish murder mysteries since 1997, set in the Amish country of Holmes County, Ohio, where he lives. Originally published by Ohio University Press, Gaus's books are now being republished by Penguin as "The Amish Mystery Series." The first title in the series, "Blood of the Prodigal," which addresses shunning – the Amish practice of exiling disobedient church members into the mainstream society – was released last month. All six of Gaus's books will be released by Penguin, one a month, from now through February. Monitor contributor Brendan Pelsue spoke with Gaus recently.
How did you start writing Amish mystery novels?
I have lived in Wooster, Ohio, for over 33 years. Just south of us, in Holmes County, we have the largest Amish settlement of any location in the world. While I was teaching chemistry, I took an interest in writing about Amish society. And I always enjoyed mystery novels. So I took a trip out to New Mexico to meet with Tony Hillerman, who wrote many novels about Navajo culture. And I thought that I would write mystery novels like Tony Hillerman does, but I would set them among the Amish of Holmes county.
---