Sherlock Holmes is on the case again
(Read article summary)
Sherlock Holmes – the most frequently impersonated fictional character in the world – returns to contemporary London by way of "Masterpiece Mystery"!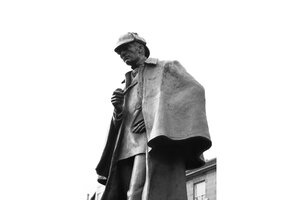 Don't feel bad if you have lost count of the number of actors you've seen play Sherlock Holmes. Sir Arthur Conan Doyle's astute fictional supersleuth is actually listed in "Guinness World Records" as "the most portrayed movie character" ever, with 75 actors playing the part in more than 211 films.
But there's always room for one more. A new PBS version called "Sherlock" will première on "Masterpiece Mystery!" this Sunday, Oct. 24, with "A Study in Pink" – a retelling of the Holmes classic "A Study in Scarlet" recast in contemporary London. Two more episodes of the contemporary Holmes ("The Blind Banker" and "The Great Game") – starring Holmes as played by Benedict Cumberbatch, with Martin Freeman as sidekick Dr. John H. Watson – will air on Oct. 31 and Nov. 7.
It was quite "nerve-racking" to portray a figure as iconic as Holmes, Cumberbatch admitted in an interview. But the new series, he insists, "maintains the integrity of Conan Doyle's original."
---