Starbucks adds e-books to the mix
(Read article summary)
Starbucks is partnering with Yahoo to provide customers with a new digital network offering free e-books, movies, and other goodies.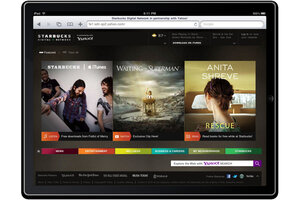 AP
Forget the coffee – or even the new offerings of beer and wine. Now there's a really good reason to go to Starbucks: e-books!
As part of a joint venture with Yahoo, Starbucks begins today providing customers with a new digital network that offers free e-books, movies, and other goodies designed to keep customers lingering over their lattes – and spending extra dollars – as long as possible.
Starbucks began offering free wireless Internet in its stores in July. As of today, when customers take advantage of Stabucks' Internet access, the first thing they see will be a welcome page inviting them to read books (or pieces thereof), watch movies, and enjoy access to some paid sites like The Wall Street Journal. Additional partners include The New York Times, USA Today, Apple's iTunes, local news provider Patch, and Zagat.
For the most part, the free content is available only while the customer is in Starbucks.
---
Follow Stories Like This
Get the Monitor stories you care about delivered to your inbox.