Paul the Octopus: how he got his name
(Read article summary)
Paul the Octopus, being remembered today around the globe, was named after a poem for young readers.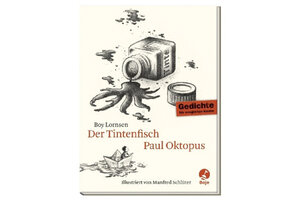 Paul the Octopus – a resident of a tank at Sea Life Centre in Oberhausen, Germany, who died yesterday – was the most unlikely of celebrities. He burst into fame after correctly "predicting" the winner of Germany's seven matches at the 2010 World Cup, as well as the final. (Paul's "predictions" were made when he would select a mussel from a box bearing the flag of the winning country.)
His selections were 100% (8/8) correct for the 2010 World Cup and 86% (12/14) correct overall.
What some of his fans may not realize, however, is that he takes his name from another celebrated – albeit entirely fictional – octopus. He was named after an ink-blot octopus in the poem "Der Tintenfisch Paul Oktopus" by German children's writer Boy Lornsen.
---