"Midnight in the Garden of Good and Evil": the tour
(Read article summary)
What fans of "Midnight in the Garden of Good and Evil" need to see in Savannah.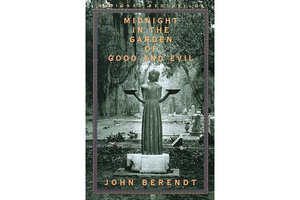 It takes a bit of effort to find the whole truth in Savannah.
Take the willowy tendrils that hang down so evocatively from the countless oak trees. You might be told that it's Spanish moss. But it isn't Spanish nor is it moss: The plant lives off water in the air.
Tour guides will tell you that the waterfront statue of a woman waving a cloth depicts a spinster who greeted ships for 50 years, waiting in vain for her beloved sailor to come home before succumbing to a broken heart. But that's not true: She was just a nice lady who was a kind of one-person welcoming committee.
And in one of the town's beautiful squares sits a fine old mansion that offers tours of its exquisite interior. Walk inside and you'll hear about the former owner's commitment to the restoration of historic homes and the difference he made. But there won't be a peep about a very messy bit of business: the fatal shooting in the study that spawned a runaway bestseller and turned Savannah into a top tourist destination.
"Midnight in the Garden of Good and Evil," the true story of early 1980s Savannah and a riveting murder trial, cranked up Savannah's reputation as a tourist destination. More than 15 years later, the sites mentioned in the book still draw a steady stream of visitors, even if the past isn't always explicitly acknowledged.
Last weekend, I made a side trip to the "Hostess City of the South." I wasn't around long enough to fully savor the gothic side of Savannah depicted in the book, which portrays a genteel town full of ghosts and open secrets, or to catch a performance by major character Lady Chablis, yet another Savannah icon with a little something to hide . But I did manage to visit two haunts that should be on the itinerary of any "Midnight" fan.
---