'Decision Points': 8 most interesting revelations
(Read article summary)
What you should know about 'Decision Points.'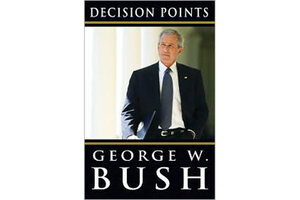 George W. Bush's memoir "Decision Points" isn't even officially available for sale until tomorrow. But that hasn't stopped quite a few readers from getting hold of copies. And of course now that the former president is starting to make the rounds of the talk shows, more and more of what's contained in his book has become common knowledge.
What are the most interesting revelations so far? I've been most intrigued by the following eight glimpses into the mind of Bush 43:
1. The former president does acknowledge some mistakes. On Katrina: "As leader of the federal government, I should have recognized the deficiencies sooner and intervened faster." On Iraq: "[W]e did not respond more quickly or aggressively when the security situation started to deteriorate after Saddam's regime fell." Also: "[C]utting troop levels too quickly was the most important failure of execution in the war." He also admits to having been "blindsided" a number of times during his presidency. On Abu Ghraib: "I had no idea how graphic or grotesque the photos [of abuse in the prison] would be." On the 2008 financial crisis: "I assumed any major credit troubles would have been flagged by the regulators or rating agencies."
2. Bush says that he had "planned to make a change at Defense as part of a new national security team" in 2006, but could not find a replacement for Secretary of Defense Donald Rumsfeld. (It was finally an old school friend serving as a presidential adviser who recommended Robert M. Gates as a replacement.)
---
Follow Stories Like This
Get the Monitor stories you care about delivered to your inbox.