How can Amazon tame controversy over book on pedophilia?
(Read article summary)
Amazon has responded to customer pressure by removing a book on pedophilia from its site – but the controversy lives on.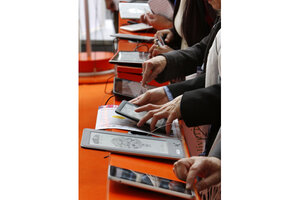 Michael Probst/AP
It took a day of customer outrage and threats of boycott before Amazon.com removed a how-to guide for pedophiles from its Kindle store late yesterday. Today, the book may be gone – but the controversy lingers on.
It all started two days ago when TechCrunch's MG Siegler posted a blog asking why Amazon would allow sales of "The Pedophile's Guide to Love and Pleasure" by Philip R. Greaves on its online bookstore. Amazon's first response was a statement declaring that, "Amazon believes it is censorship not to sell certain books simply because we or others believe their message is objectionable. Amazon does not support or promote hatred or criminal acts, however, we do support the right of every individual to make their own purchasing decisions."
A handful of readers responded by agreeing that Amazon was right to resist censorship. Thousands of others, however, expressed outrage that Amazon would allow such a title in its online bookstore. Quickly, two Facebook pages and a Twitter campaign were launched, all calling for a boycott of Amazon. A number of readers stressed that they were in the middle of their holiday shopping – none of which would be done on Amazon as long as the book remained available on its site.
---