My bungled book boycott
(Read article summary)
My resolve never to pay more than $9.99 for an e-book lasted about a week.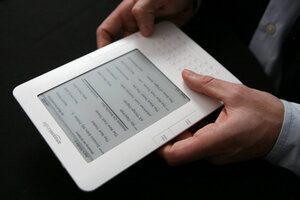 Mark Lennihan/AP
I decided to take a stand while sitting in my recliner.
It was time to fight the slings and arrows of outrageous e-book pricing schemes. No longer would I pay more than $9.99 for an e- book on Kindle. No more! I'd show those greedy publishers who's boss.
My boycott lasted oh, about a week. Sigh.
Let me explain.
My fixation with e-books began last year when I downloaded free Kindle software onto my iPhone and a new world of literary pleasure appeared before my eyes. Thanks to Kindle, I can download samples of hundreds of thousands of books – typically the first chapter or two – for free. If I like what I read, I can buy the whole book.
It's like browsing through books at Borders without having to glare at the annoying people hogging the comfy chairs.
The great thing about Kindle on a smart phone is that you can read it wherever you are: in line at the store or the Department of Motor Vehicles, sitting at a diner or on an airplane. (Kindle software is also available for free for desktops, laptops, iPads – the best experience of all – and on those clunky Kindle devices.)
To my mind, the $9.99 price that Amazon prefers to charge for Kindle e-books is perfect: it's less than a typical trade paperback and much less than a hardcover, just as it should be.
After all, publishers are saving a bundle because they don't need to print the book, put it on a truck and get it to where it needs to go to be sold. And an e-book is hardly the same as a hardcover. At least for now, I can't resell an e-book, trade it for other books at a used bookstore, or donate it to the local library's book drive.
---