Obama's "Of Thee I Sing" hits bookstore shelves
(Read article summary)
Obama's children's book "Of Thee I Sing" celebrates a diverse America.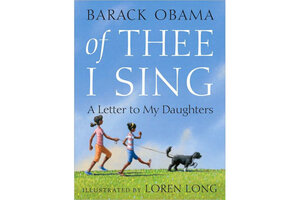 Barack Obama has already established himself as a successful author of adult books with both his memoir "Dreams from My Father" and his political book "The Audacity of Hope" enjoying solid sales around the globe. Today, however, the president makes the leap into the world of children's books with "Of Thee I Sing: A Letter to My Daughters."
Written by Obama before he took office in January, 2009, the book celebrates an America "made up of people of every kind," each bringing their different gifts to the mix.
---