2010 National Book Awards: more surprises
(Read article summary)
The 2010 National Books Awards included a few unexpected moments.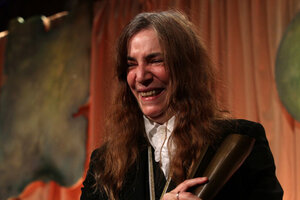 Tina Fineberg/AP
The first big surprise came during the nomination period: The 2010 National Book Awards completely overlooked Jonathan Franzen's bestselling novel "Freedom."
But there was more to follow when the winners were announced Wednesday night in New York. Jaimy Gordon, a novelist currently living and teaching in Kalamazoo, Mich., won the NBA for fiction for her fourth novel, "Lord of Misrule." Gordon was clearly the underdog in the fiction category. Her novel, about a racetrack in a down-and-out West Virgina town, was released only days ago by a small indy publisher. Gordon's victory was a long shot, particularly given the high marquee value of her competiton, which included big names like Peter Carey and Nicole Krauss.
In the nonfiction category, rocker Patti Smith not only took the prize for her memoir "Just Kids," but is also reported to have nearly brought the house down with her acceptance speech, during which she tearfully stated: "There is nothing more beautiful than the book" and then pleaded: "Please don't abandon the book."
---