"William and Kate" books rush to press
(Read article summary)
"William and Kate" are magic names in publishing as a slew of insta-books rush to press, chronicling the love story of Britain's Prince William and his fiancée Kate Middleton.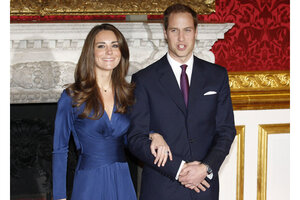 Suzanne Plunkett/Reuters
It took Leo Tolstoy seven years to write "War and Peace." The Sun's royal correspondent James Clench finished his book in about 48 hours.
"William and Kate: A Royal Love Story" hit the shelves in Britain on Friday, Nov. 26, just 10 days after Prince William and his fiancée Kate Middleton announced their engagement.
"The engagement was announced on Tuesday and the book was at the printer on Friday," said Anna Valentine, senior nonfiction editor at Harper Collins, in an AP interview.
Insta-books like "William and Kate" are becoming increasingly popular as publishers race to cover current events much the same way newspapers and news weeklies do.
"Newspapers and magazines have been doing it for centuries," Ms. Valentine said. "But if book publishers are going to remain relevant we have to be able to respond in the same way, and give consumers what they want when they want it."
Speeded by technology and content that is largely pre-written, insta-books are sent to the printers hours or days after a major event takes place. Designated writers usually write most of the text in advance (say, a biography of Oprah), then turn out the final chapter as soon as the subject is in the spotlight (say, she decides to run for public office). They hit the shelves while the news is still top of mind and readers are champing for more.
---