Color e-readers: boon for or bane of children's books?
(Read article summary)
Apple is making a leap into illustrated books today, adding more than 100 children's book, photo, and cookbook titles to its iBookstore.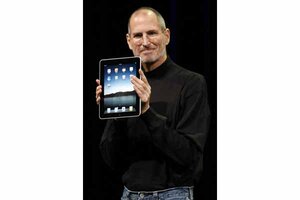 "E-readers will be good for certain kinds of reading experiences but not others." It seemed we all agreed on that from the moment we took that first Kindle out of its box. And beautifully illustrated books were among the experiences we didn't expect to enjoy on our e-readers.
Think again.
There was the iPad, there was the Nook Color, and now here's Apple announcing a "major push" (as reported in The New York Times) into illustrated books. According to the Times, today Apple will be introducing more than 100 titles to its iBookstore, including "children's books, photography books ... cookbooks" and "[s]ome of the most popular children's picture books of all time."
Among the children's book titles mentioned were some of the "Olivia" picture books, "And Tango Makes Three" by Justin Richardson and Peter Parnell, "Tippy-Tippy-Tippy, Hide!" by Candace Fleming, and "When Dinosaurs Came With Everything" by Elise Broach and David Small.
---