Oprah's book club picks falling short
(Read article summary)
Sales of Oprah's 2010 Book Club picks, Charles Dickens's 'A Tale of Two Cities' and 'Great Expectations,' are falling short of the the 'Oprah effect.'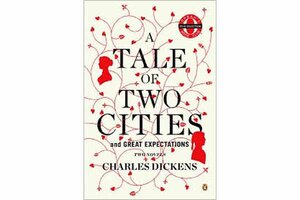 It was the best of times – Oprah Winfrey selecting two works by Charles Dickens for her book club.
It was the worst of times – sales of "A Tale of Two Cities" and "Great Expectations" are falling far short of "Oprah effect" expectations, according to media accounts.
The classic books are already widely owned, noted an Associated Press article, which might explain why they aren't seeing the blockbuster sales of other Winfrey choices. Or, the article noted, another issue might have affected sales: Readers can get both books for free.
"For the first time since the emergence of the Kindle and the explosion of the e-book market, Winfrey's choice was in the 'public domain,' " AP reporter Hillel Italie wrote. "The copyright on Dickens' books long expired, so they can be sold by anyone, at any price, in any format. The Penguin paperback is listed at $20, and an e-edition prepared by Penguin costs $7.99. But both novels are widely available for free, as Amazon made clear in a press statement on the day of Winfrey's announcement."
The choices have also (as many Oprah picks do) come under some fire. The New Republic complained that Winfrey, who has not previously read the books, was wrongly selling them as a light holiday read and would bring little to the discussion. Oprah fans "must now scramble about to decipher Dickens's obscure dialectical styling and his long-lost euphemisms—and the sad truth is that, with no real guidance, readers cannot grow into lovers of the canon," the article said. The Atlantic reviewed that critique and piled on more, saying, "To treat serious literature as fun is an admirable way to get people reading Dickens, but if Oprah's teaching leaves thousands of readers misinformed or confused, is that really responsible?"
---
Follow Stories Like This
Get the Monitor stories you care about delivered to your inbox.