5 questions about teaching ethics to kids
(Read article summary)
Rushworth Kidder, author of "Good Kids, Tough Choices," talks about the vital challenge of helping children develop moral fiber.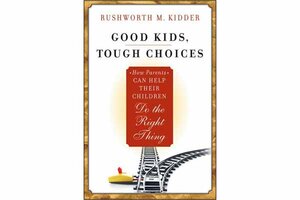 Parents love to tell children to "do the right thing," but a lot of times, kids are left wondering what that right thing is. "Always tell the truth," sounds great, but what about when it conflicts with "always keep your word," in the case of a teenager who has promised to keep a secret for a friend. Which "right" trumps in that case?
Ethical fitness is as important as physical fitness, Rushworth Kidder, founder of the Institute of Global Ethics, argues in his new book, Good Kids, Tough Choices: How Parents Can Help Their Children Do the Right Thing. Morals, Kidder argues, require as much daily conditioning as muscles.
Whether it's a toddler eating someone else's toothpaste, or a teenager who's been asked to keep a secret for a friend that might hurt someone, Kidder suggests the best thing parents can do is to help children reason their own way through ethical problems. His book is divided into five sections by ages, from toddlers up to 23-year-olds, and focuses on real-world problems that actual families have faced.
Monitor contributor Yvonne Zipp recently asked Kidder five questions about teaching morals to kids.
1. How can parents engage their kids about ethical dilemmas?
I think we start having those conversations at a surprisingly early age.... It starts with working with the shared core values we've discovered over 20 years of research at the institute. Universal values of truth, responsibility, respect , compassion, and fairness. These appear to be global values according to the research we've done. To the extent you can help children understand that these in fact are their values, you don't have to impose anything. They're innate.
---