12 books on America in the face of political violence
(Read article summary)
These history books remind us that the shooting in Tuscon is not the first time Americans have confronted violence directed at politicians.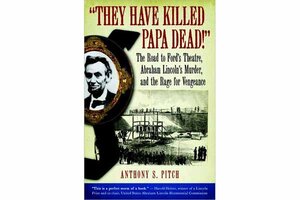 Never mind the Chinese curse about living in interesting times. We actually like to think our own era is unique and special, that we as a people stand out – for better or worse – compared to those from the past.
Right now, the specter of political violence seems to be setting us apart from the rest of American history, at least in the minds of some pundits. "Tucson will either be the tragedy that brought us back from the brink, or the first in a series of gruesome memories to come," writes Matt Bai in the New York Times.
Bai's statement is a scary one. But what does American history say? Do we really live in a unique time or have we forgotten that we've always been like this?
As the following books reveal, our past is pocked by unhinged young men with guns and grievances. We have been here before, and we will be here again.
Yet the country managed to still survive and thrive. These books remind us of both the horror of political violence and the American system's resilience.

The Men with Guns:
Historian Anthony Pitch calls the assassination of President Lincoln "the saddest story in American history." It's hard to disagree. But there's much more to the tale than most people know. Pitch provides a fine overview of the violent forces in Civil War America in "They Have Killed Papa Dead!": The Road to Ford's Theatre, Abraham Lincoln's Murder, and the Rage for Vengeance. The best book about the assassin himself is American Brutus: John Wilkes Booth and the Lincoln Conspiracies by Michael W. Kauffman.
---