"Battle Hymn of the Tiger Mother" – is Amy Chua right?
(Read article summary)
Having been raised by Indian parents, I'm not so outraged by Amy Chua's "Battle Hymn of the Tiger Mother."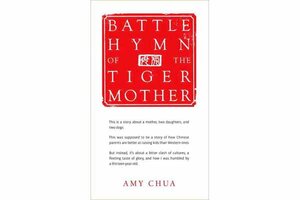 Raised in the US by Indian parents, I wasn't allowed to attend sleepovers, school dances, or the prom; I almost always aced my exams and brought home A's at the end of the year, the result of hours of diligent study, often with my father by my side, patiently tutoring me. Though mild-mannered and gentle in their child-rearing, my parents had high expectations of their children. Even though they were never actually spoken, we clearly understood those tacit expectations. And it worked. How many families have graduated all four kids as valedictorian of their (albeit small) graduating class? Followed, four years later, with four more summa cum laude college grads?
Clearly, my parents did something right.
Perhaps that's why I'm not outraged by what is perhaps the first book of 2011 to unleash a firestorm of condemnation. In "Battle Hymn of the Tiger Mother," Yale law professor Amy Chua recounts her experience raising her two daughters "the Chinese way:" no play dates, no sleepovers, no school plays, no TV or computer games, no grades lower than A, no class ranking less than No. 1 (except for gym and drama).
5 books you absolutely must read in 2011
Ms. Chua makes the case that Western parents, with their emphasis on self-esteem, free expression, and individuality, produce soft, coddled children with substandard achievements. Chinese parents (as well as others who parent with Asian or "old world" values), Chua argues, understand that a strong foundation can help guarantee their children's success, and therefore take on the weighty responsibility of ensuring their children's academic and extracurricular achievement – whatever it takes.
---