Sherlock Holmes: He's back!
(Read article summary)
Sherlock Holmes will return to the written page in a new novel authorized by the Arthur Conan Doyle estate.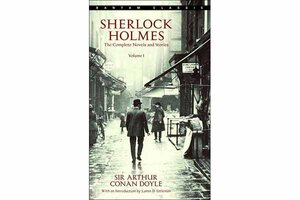 Just when you were starting to fear that 2011 was turning a bit bleak, here's a piece of news to prove you wrong: There will be a new "Sherlock Holmes" novel released this fall. And it's by a writer who stands at least a chance of getting it right.
Anthony Horowitz has been chosen by Arthur Conan Doyle's estate to officially resurrect the iconic Victorian detective by writing a full-length novel, scheduled for release by Orion this September. As an author, Horowitz is perhaps best known for his hugely popular "Alex Rider" children's series. But he is also a screenwriter and is the creator and writer of two fine TV series with mystery themes: "Foyle's War" and "Collision" – the excellence of which bode well for the new "Holmes" novel.
Horowitz also adapted several of Agatha Christie's "Hercule Poirot" stories for TV in the 1990s and wrote the majority of the episodes of a British TV series called "Midsomer Murders."
When it comes to Holmes, Horowitz says he's been a devoted fan since he was 16. "I simply couldn't resist this opportunity to write a brand-new adventure for this iconic figure," he told the press. "[M]y aim is to produce a first-rate mystery for a modern audience while remaining absolutely true to the spirit of the original."
Horowitz is not giving away any details yet, but he has said that he plans to keep Holmes in his historic Victorian setting.
---