"Molotov's Magic Lantern: Travels in Russian History": an interview with author Rachel Polonsky
(Read article summary)
Journalist Rachel Polonsky explores some of the troubled fault lines in modern Russian history.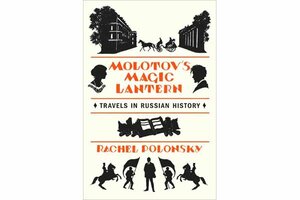 When British journalist Rachel Polonsky moved to Moscow in the late 1990s, she found herself living at No. 3 Romanov Lane – a grand Czarist-era apartment building that later became home to the Soviet elite. One day Polonsky's upstairs neighbor let her into his apartment – formerly the home of Stalin's ruthless henchman Vyacheslav Molotov. Her exploration of the remnants of Molotov's magnificent library became the motif around which she built her book Molotov's Magic Lantern: Travels in Russian History. I recently had the chance to ask Polonsky about her life at No. 3 Romanov Lane, her travels in Russia, and her feelings about the country that both saddens and delights her.
Q. No. 3 Romanov Lane was full of so many memories, some rather tragic in nature. Did you feel haunted by the past when you lived there or has a new spirit now taken over?
I always felt the presence of the past very powerfully in No.3, even before I stepped inside the house. I think that everyone who visited the building was moved to think about its strange history; I cannot remember anyone who came into it who did not comment on both its grandeur and its tragedy. Some Russian friends said they could not have lived in it because of the historical evil they associate with it; because it was a refuge for their persecutors in the Soviet regime. Delving into the building's past, finding out names and stories, and writing about it was my way of inhabiting the building, a way of sharing it with those former occupants whose presence was still so vivid. It was also a way of bringing back the good people who had lived in it, and its original purpose, which was to be a home to civilized families. I am still haunted by the many stories I did not uncover, the stories I did not have the space to tell in "Molotov's Magic Lantern," the secrets the building still keeps.

---