Nancy Pearl: an interview with the 2011 Librarian of the Year
(Read article summary)
When Seattle super librarian Nancy Pearl was named 2011 Librarian of the Year by Library Journal her fans asked: "Why did it take so long?"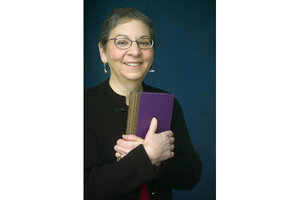 Josh Armstrong – CSM staff/file
Technically, the 2011 Librarian of the Year is retired. But Nancy Pearl, already the country's most famous librarian when she left the Seattle Public Library in 2004, has only become busier and better known in the years since. She writes books and speaks on the radio about new and old titles that readers might love; she travels the country speaking to book lovers and helping train a new generation of librarians. Legions of fans rely on her encyclopedic knowledge and her informed intuition for what any given reader might want to check out next.
"What took you so long?" fans asked when the honor was announced.
When I interviewed Pearl years back on her official "retirement," national colleagues praised her for founding the nationally replicated "If All Seattle Read The Same Book" program and for her bestselling "Book Lust" series. She was already known for the "Rule of 50", where she saw no point in any reader's continuing to read a book if the book wasn't enjoyable by page 50 (subtracting an extra page for each year that the reader is over 50), and for the sense of humor that allowed her to model for a "Shushing Librarian" action figure.
But what distinguished her even more to me was the passion for reading that any book lover can sense in another – but expressed, in Pearl, on an unprecedented scale that went beyond genre or age or personal likes.
---
Follow Stories Like This
Get the Monitor stories you care about delivered to your inbox.