J.D. Salinger biographer: "new" Salinger works coming soon?
(Read article summary)
J.D. Salinger biographer Kenneth Slawenski is "very hopeful" that "new" works by Salinger will soon be available.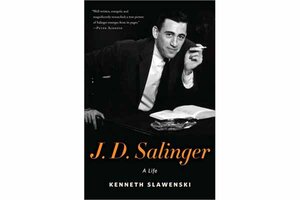 J.D. Salinger: the name is almost synonymous with the notion of hermit. But Kenneth Slawenski – who, after nearly a decade of research has written J.D. Salinger: A Life – says that public notions of Salinger are not always accurate. Slawenski's book, released this week, follows the famed author of "Catcher in the Rye" from his privileged childhood in New York City through his formative military service; his various romances; the creation of Holden Caulfield, the Glass family, and other literary icons; and on to his reclusive years of private life in Cornish, N.H.

I recently had the chance to ask Slawenski about his book and the fascinating subject at its center.
You worked on this biography for eight years. What originally drew you to Salinger as a subject?
I read "The Catcher in the Rye" as a teenager and connected with its narrator, Holden Caulfield. But it was rereading the novel as an adult that most inspired me. Holden seemed to have also grown with the years, and that amazed me. Naturally, I became curious about the author who created such a remarkable character and found myself compulsively conducting research into Salinger's life and works.
15 promising new titles for 2011
The Salinger that you describe in this book is sometimes at odds with his public image. What misperceptions of him are most common?
The common perception of Salinger is that he was a recluse and deliberately turned his back on the world. That's a black and white image, void of color. Salinger's withdrawal was a progression rather than a decision. It slowly enveloped him.
---