Wendy Kopp: Teach for America founder and author of "A Chance to Make History"
(Read article summary)
On the 20th anniversary of Teach For America, founder Wendy Kopp pauses to consider the success of TFA and her new book "A Chance to Make History"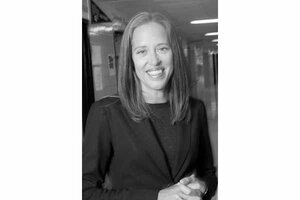 Jean-Christian Bourcart
In 1989, Wendy Kopp was a college student honing a good idea in her senior thesis. Today, she is the head of Teach For America, a program that funnels thousands of America's top college students into some of toughest public teaching slots in this country. Not only are more than 8,000 TFA teachers working in 39 US cities and regions this year, but 20,000 TFA alumni are now in the working world, more than half continuing in the field of education and many of the others making a mark in fields like law and policy.
Meanwhile, TFA has now spawned Teach For All – a global group bringing TFA principles to countries like India and Peru.
As TFA celebrates its 20th anniversary, Wendy Kopp took a few moments to talk with me about TFA, her book A Chance to Make History, and why she believes that America's best students can work together to solve its toughest challenge.
Q. As you look back over the past 20 years, what do you think Teach For America's biggest accomplishment has been?
Teach For America's fundamental mission is to enlist many of our country's future leaders in the effort to end educational inequity. Our greatest accomplishment is the degree to which we're doing that, in the short run through our teachers' ability to throw themselves into their work and do everything they can to expand the opportunities for their students and also through our alumni who keep fighting the fight. Some of them are within classrooms as teachers – 65% of them are still working full time in education – others are coming from other important sectors like policy and law and journalism and what not.
---